Posted on
By Isabella Henry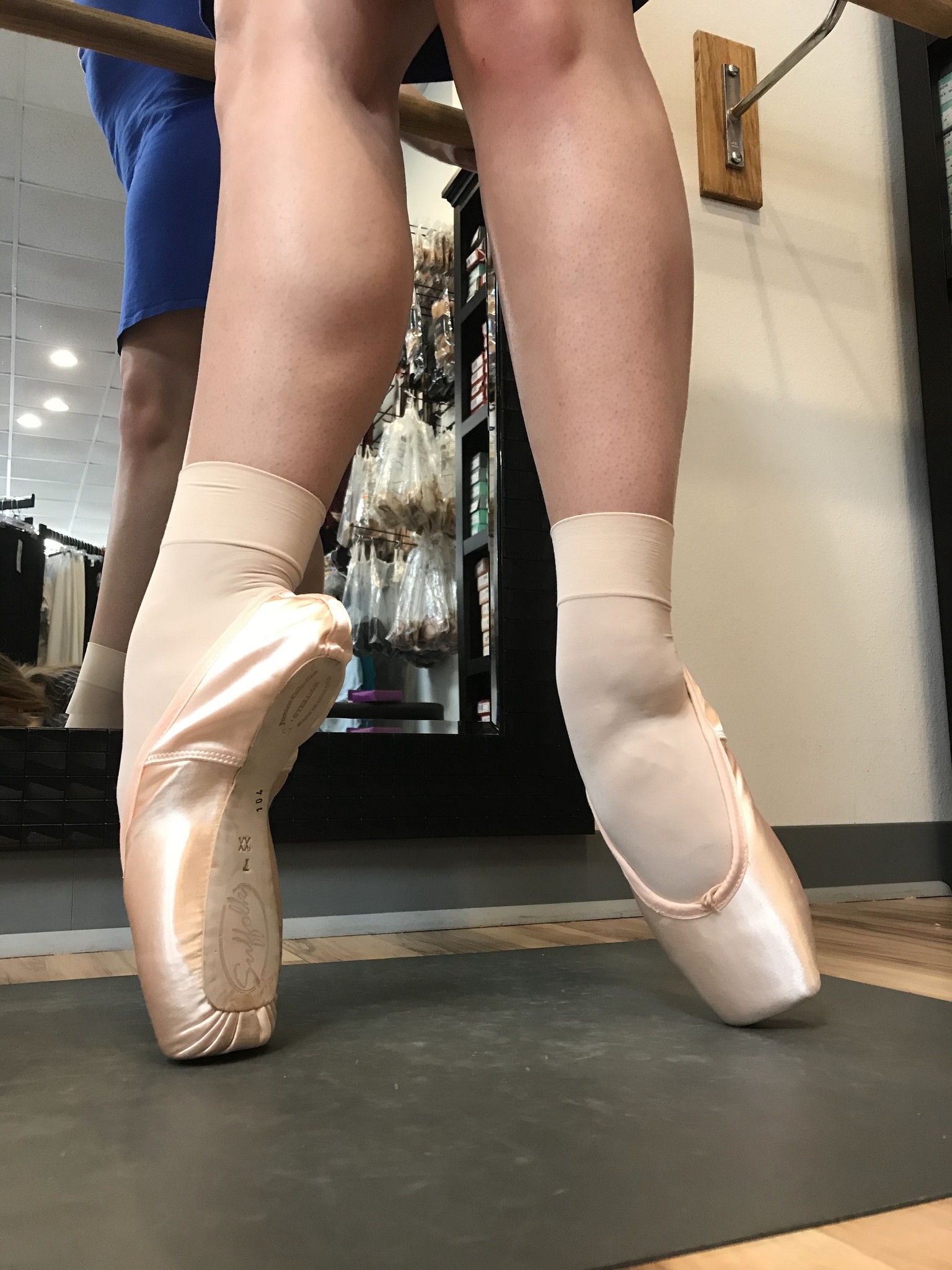 When it comes to the 1st pair of pointe shoes, what's the best choice for a dancer? In this article, we cover the pros and cons of both options.
Okay teachers, let's talk pointe shoes.
When the time comes for a student or class to be advanced up to pointe work, it's an exciting and memorable experience!  Every dancer remembers the day they were fit in their first pair of pointe shoes.  However, it raises a few questions: what's the best way to schedule the fitting? Is it better to advance a class together or individually? And finally, is it better to schedule a group fitting for your class, or should each dancer have a private appointment? While we can't answer all of these questions, we can definitely help with the fitting! Let's compare the positives and negatives for both options.
Group Fittings: the Good and the Bad Sides
When teachers schedule a group fitting for their newest pointe class, it's always an exciting time!  I've had the pleasure of assisting with both scheduling and fitting groups, and it's very interesting to see how different each class is.  Typically, we'll see a group of about 4-6 ladies at a time.  They feed off of each others' joy, excitement and determination.  They encourage one another, and everyone applauds as one by one, the perfect fit is found!  I've also found that they learn from watching one another as well, being able to see the differences in each other and their shoes.  Then comes the photos, individually and together, a snapshot taken of a moment in their dance journey that they'll always treasure.
While there are many beautiful reasons to book your class together, there's also some other things to consider.
Comparison can play a large part in this process.  Many times, two or three girls find a shoe quickly and with minimal complications, while one or two other really struggle to find the correct fit.  In these moments, it becomes very easy for the dancer to begin to judge herself, questioning: "Why don't my feet look like that? Am I doing something wrong?"  It can also be stressful on the parents, trying to coordinate a time for everyone.  Then, if one dancer cannot make it to the fitting, they often find themselves feeling left out, having missed this important moment of bonding.
Individual Fittings: Is This the Better Choice?
When each dancer comes in for a private fitting, there is no rush.  The sole focus is on the dancer, and there are no distractions away from getting that perfect first shoe!  Each dancer can take this fitting at her own pace, without feeling like she is doing any "better" or "worse" than another.  This experience is truly different for every dancer I have fit. Every dancer and their needs are unique, and we want them all to feel secure in their knowledge and choices. Then, of course, come the pictures!  They always leave with everything they need (and sometimes a leotard too!) as well as plenty of tips and advice on sewing, care, etc.
However, just as with a group fitting, there are other things to consider in this decision.
I've found that an individual fitting for the first pair can be very intimidating.  Sometimes, the dancer tends to be very hesitant to complain or explain issues they're feeling, or they may end up not asking questions.  They can be shy and very quiet, and may end up leaving feeling nervous, questioning whether or not they had a "good" fitting as they have no gauge for what defines a "good" or "bad" fitting.  They also can end up feeling disappointed, especially if they've seen pictures of other studios' group fittings, as they can seem less "exciting" by yourself.
So this brings us back to the question: Which option is the best one?
The truth is, there really is no right or wrong choice here.  Each class is different, and each dancer within the class is unique, with unique challenges, strengths, and needs.  For some, a calmer, slower paced, private appointment will be the best option.  Others will excel in a group setting, cheering each other on and learning from one another.  It truly is different for every single dancer.
My advice? Trust your instincts.  As a teacher or a parent, you see each dancer's progress and personality.  If you feel like this class will do great advancing together and getting fit together, go for it!  If you feel like this class would feel much more comfortable without the possibility of comparison, then individual fittings is the way to go!  We'll always do our best to make sure each dancer leaves feeling happy with their choice.  Whichever way you choose to go, we're here to help.
See you at the Shoppe!
-Isabella